Mitt Romney confirms he would end US wind power subsidies
Mitt Romney and Barack Obama draw up battle lines over US wind farm tax credit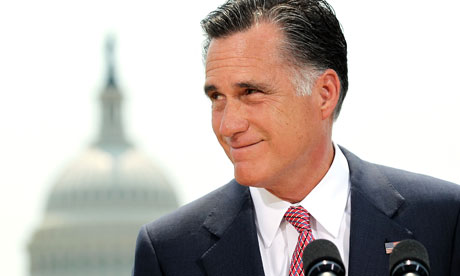 Republican US presidential candidate Mitt Romney has said he would let wind power tax credits expire. Photograph: Alex Wong/Getty Images
Mitt Romney looks set to declare war on America's wind energy industry, further emphasising the dividing line between the presumptive Republican presidential candidate and President Barack Obama on energy issues.
Romney's campaign confirmed this week he wants to end long-standing tax credits for wind farm projects when the incentives come up for review later this year.
The pledge means the popular production tax credits (PTCs) – which have helped drive a surge in new wind energy investment in the US, making it the second largest wind energy market in the world after China – would be allowed to expire at the end of this year if the Republicans secure the White House in November.
Shawn McCoy, a spokesman for Romney's Iowa campaign, told the Des Moines Register earlier this week that Romney would "allow the wind credit to expire, end the stimulus boondoggles, and create a level playing field on which all sources of energy can compete on their merits".
He added that wind energy would still be allowed to "thrive wherever it is economically competitive, and wherever private sector competitors with far more experience than the president believe the investment will produce results".
Romney's campaign later confirmed he planned to allow the tax credits to lapse, stressing that he favours an energy policy environment where technology-specific incentives are removed.
However, green groups, renewable energy industry insiders, and Democrats were all quick to point out that Romney's desire for a level playing field on energy policy does not extend to oil and gas, where he has pledged to retain up to $40bn of subsidies and tax breaks that President Obama wants to see phased out.
Romney also faces accusations he has flip-flopped on clean energy policy, given that as governor of Massachusetts between 2003 and 2007 he talked up the potential for renewable energy and approved state support packages for a number of clean tech firms.
The latest pledge to roll back support for the wind energy sector is likely to appeal to the GOP's base, but it will also infuriate a number of Republicans in states where the wind industry is booming.
In June, 16 Republicans in Congress wrote to the GOP leaders in the House of Representatives urging them to approve an immediate extension of the PTC scheme as a means of driving investment and job creation.
The American Wind Energy Association (AWEA) is now warning that a number of projects are already slowing down and undertaking lay-offs as developers wait to find out if the PTC will be extended beyond the end of the year.
"The PTC is an example of effective, job-creating tax policy, but with expiration looming at the end of the year, 37,000 good American jobs are in peril," said AWEA chief executive Denise Bode in a statement. "That is why Congress must act now to save USA wind jobs and keep this success story moving forward."